Sink, Faucet, And Toilet Repair & Replacement In Portland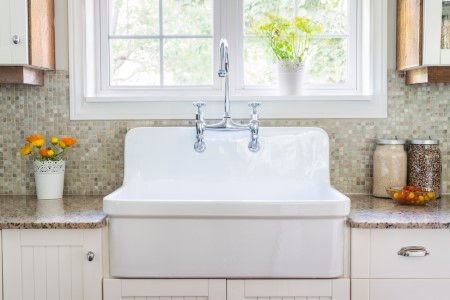 For Portland homeowners, a leaky sink, faucet, or toilet may seem like a minor issue. However, the longer you wait to address these problems, the more likely you will have a bigger, more expensive project, such as a toilet replacement, in the future. If you want to avoid these headaches, we recommend contacting a dependable plumber to look at your home as soon as possible.
For years, Mick's Plumbing has been regarded as Portland's premier plumbing business, specializing in various services such as kitchen remodeling, sink installation, sewer cleaning, toilet replacement, and more. Although you might think you're pretty handy and that you can handle most of these seemingly minor plumbing issues on your own, if you make one mistake, you can potentially cause significant (and expensive) damage to your home's plumbing.
We advise all homeowners to get in touch with a plumbing expert for their sink, faucet, or toilet issues rather than try to address them on their own. At Mick's Plumbing, we have the tools, experience, and knowledge to find the best solution so that you don't have to worry.
Don't underestimate sink, faucet, or toilet issues around the home. They may appear to be relatively minor, but leaving them unattended can be costly. They can lead to damage to your pipes, higher water bills, and even enough damage to your plumbing that you need to consider major projects, such as sink or toilet replacements. Call an expert to help you as soon as possible.
Why We're Portland's Top Choice for Sink, Faucet, and Toilet Repairs
Why should Portland homeowners choose Mick's Plumbing? Simply put - we're the best at what we do. Since we started our business many years ago, we've developed a reputation as dependable, dedicated, and knowledgeable plumbing experts in the region. We have serviced numerous customers over the years, and they can all attest to the fact that we know our way around a plumbing system. Rather than try to handle a plumbing issue on your own and potentially risk causing major damage, contact Mick's Plumbing and let us take the project off your hands.
From the moment you set up your appointment with us, we'll give you the full attention you deserve. We will find the best time to come look at the problem, conduct a thorough inspection, and let you know what issues we discover. We never leave a project unfinished, and we guarantee that you'll be satisfied with our work.
If you're a Portland homeowner dealing with a leaky sink, a noisy faucet, or a potential toilet replacement, Mick's Plumbing is here for you. Don't hesitate to call us for your plumbing needs.