Portland Plumber For All Your Plumbing Repair Needs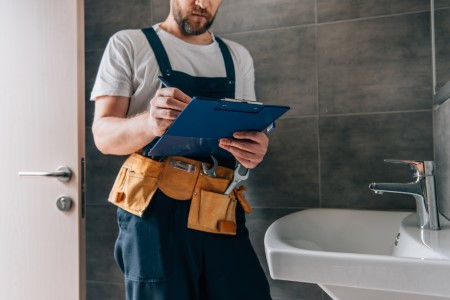 Finding a reliable plumbing repair service in the Portland area can be tough and stressful. Fortunately, Mick's Plumbing has made a name for itself as a reputable Portland plumber repair service since the business opened its doors several years ago. Take away the stress of trying to find the best plumber and hire Mick's Plumbing for your needs today.
When we say plumbing repair, we don't just mean clogged toilets. There are many aspects of your home that rely on healthy, clean plumbing, from the sinks in your kitchen to your own hot water heater.
You must never underestimate plumbing issues around your home, no matter how small they may seem. A leaking faucet can cause lasting damage to pipes. A clogged drain can lead to flooding in your yard. Neglected dripping pipes can damage your drywall or ceiling. To avoid headaches, you want to contact a plumbing professional as soon as possible.
Mick's Plumbing is the one-stop-shop for Portland homeowners in need of virtually any kind of plumbing assistance.
Our plumbing repair services include, but aren't limited to, the following:
Total pipe repair and replacement
Clogged and obstructed drains and pipes
Leaky pipes, small or large
Broken or worn plumbing fixtures
Bathroom and kitchen sink replacement
Well inspection and repair
Toilet clogs, leaks, and repairs
Faucet inspection and repair
Drain cleaning and repair
Hot water heater repair and replacement
Sewer repair
We know the value of having functioning, properly maintained plumbing in your home. Our recommendation is to hire a professional plumbing contractor to inspect any suspicious leaks, puddles, smells or sounds sooner rather than later.
Why We're Portland's Top Plumbing Repair Service
We here at Mick's Plumbing have spent years working tirelessly to build up our reputation as one of Portland's finest plumbing contractors. When you call us for your plumbing needs, we will give you the service you need and deserve.
We know how frustrating and stressful it can be having to deal with plumbing issues around the home, so we'll do all we can to give you peace of mind. The moment you walk through our doors, you're greeted with a warm smile and our undivided attention.
We employ only top experts at Mick's Plumbing, and our staff has years of experience and knowledge in the plumbing industry. Every one of us knows our way around pipes, drains, sewers, and more, and we won't leave a job until we know you're satisfied.
Mick's Plumbing also provides 24-hour emergency plumbing services for Portland homeowners, so even if you encounter a dangerous leak in the middle of the night, you can rest assured knowing that we will be there to save the day.
Mick's Plumbing is synonymous with high-quality service. If you're a Portland homeowner facing a plumbing repair emergency, you know who to call.