Your Trusted Plumber in Milwaukie, OR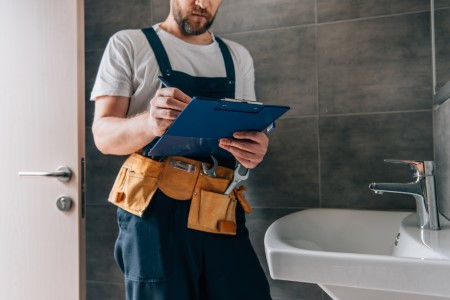 Many homeowners know how frustrating it can be to run into a plumbing problem and not having a reliable and knowledgeable plumber ready to help. Fortunately, for Milwaukie homeowners, there's Mick's Plumbing, the top plumbing service in the region.
Since we first opened our doors several years ago, we've been servicing the people of the greater Milwaukie area and helping them with their plumbing needs, from minor leaks and drain clogs to hot water heater replacements and bathroom remodeling. Our goal is to ensure that everyone can have peace of mind knowing that their plumbing is in good hands, and we have yet to find a plumbing project we couldn't tackle.
If you're in the Milwaukie region, we offer the following plumber services:
General plumbing repairs and maintenance
Drain cleaning and clog removals
Water treatments
Water softeners
Hot water heater repairs and replacements
Sink, faucet, and toilet repairs and replacements
Kitchen remodeling
Bathroom remodeling
Basement remodeling and refinishing
Lite commercial plumbing
We're a licensed, insured, and certified plumbing contractor with years of knowledge and experience in a wide variety of plumbing concepts. We encourage you to give us a call today to see how we can help you with your plumbing needs.
When to Call a Plumber for Your Milwaukie Home
As a homeowner, you need to be aware of everything going around your house, especially in regard to plumbing, which is the lifeblood of your residence. One small leak can lead to a potentially larger (and more costly) problem. That is why we advise you to be on the lookout for the following situations in which you may need a professional plumber to come take a look:
There are unusual puddles around your home - A puddle can be the sign of a leaky or damaged pipe. Keep a close eye around sinks, toilets, faucets, and your hot water heater. The moment you find a foreign puddle in your home, you need to address it right away by calling a plumber.
There is an unusual odor coming from your sink or drains - Foul odors emanating from your sink or drain can indicate bacteria, mold, or mildew residing within your pipes. Allowing this to go unattended can cause multiple health problems and can eventually lead to extensive pipe damage.
There are odd gurgling sounds in your drain - When your drain makes a gurgling sound, it means there is an air pocket trapped within the pipes. The air pockets are often formed by obstructions or clogs, but there might be other causes as well. No matter what the reason, it's still important to have a professional plumber look at your pipes if you don't stop hearing gurgling.
Mick's Plumbing is familiar with almost all types of plumbing issues and problems. We welcome you to call us if you have noticed any of these telltale warning signs around your home.