Your Trusted Plumber in Lake Oswego, OR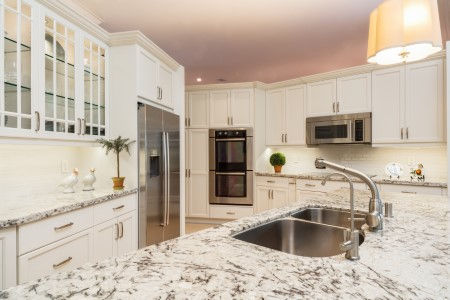 Are you in need of a reliable plumber in the Lake Oswego, OR, area, but don't know where to look? Contact Mick's Plumbing, the premier plumbing contractor for homeowners and commercial property owners.
For years, we've been Lake Oswego residents' top choice for plumbing services, from drain clogs to hot water heater repairs, to full-scale kitchen or bathroom remodels. Since we opened our doors, Mick's Plumbing has been dedicated to helping our customers across the region with their plumbing needs, and we guarantee that we can assist you with yours.
Mick's Plumbing offers the following plumber services for Lake Oswego residents.
General plumbing repairs such as broken toilets and leaky pipes
Drain cleaning and clog removal
Sewer line repairs
Water treatments
Water softeners
Hot water heater repairs, replacements, and installations
Any sized kitchen remodels
Bathroom remodels
Bathroom refinishing and remodeling
If you're in desperate need of a professional, licensed contractor look at your Lake Oswego home's plumbing, call Mick's Plumbing today.
Why You Should Call a Plumber for Your Lake Oswego Home
There are many instances around the home that can be caused by faulty or damaged plumbing. While many homeowners think that these are easy fixes, the truth is that every plumbing-related issue must be taken seriously. One seemingly small problem, such as a leaky faucet, can lead to more substantial complications and costly repairs further down the road.
If you're curious about when it's time to call a professional plumber, here are a few notable situations:
You notice a foul odor around your sink or drains - It's normal for there to be a brief, foul smell around drains or sinks after cleaning them or washing food or waste down them. However, if you notice a perpetual odor that doesn't go away, you might have a bigger problem on your hands, such as mold, mildew, or bacteria hanging around inside your pipes.
There are odd gurgling sounds coming from pipes - Gurgling sounds are often the result of air pockets being trapped inside of pipes, which are caused by large obstructions such as hair, soap scum, and waste. You will want to call your plumber if you notice a loud and perpetual gurgling to see what is causing all the issues before it's too late.
You see puddles around the home - Finding a puddle in your home is a significant indicator of a leak. The most common areas you'll find puddles are under your sink or near your water heater, but you can also find them almost anywhere if you have a roof leak. In any case, it's advised that you speak with a professional the moment you spot foreign puddles in your home.
Lake Oswego residents can rest assured knowing that Mick's Plumbing is available to assist with all their plumbing needs. If you have any questions about potential plumbing problems in your home, give us a call today.