Cook Up A New Kitchen Design With Portland Kitchen Remodeling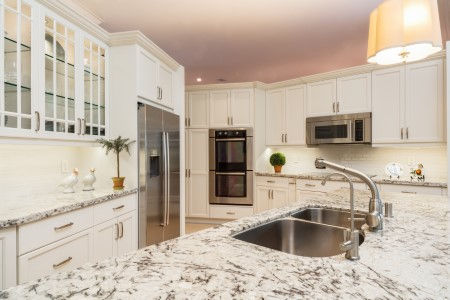 Did you know that kitchen remodeling is one of the most popular projects undertaken by Portland homeowners? If you're one of those people about to start your kitchen project, it's best to consult with an expert that knows what they're doing. At Mick's Plumbing, we know our way around kitchen remodels.
Kitchen remodeling is not a simple, one-hour task. It requires a lot of planning, a lot of work, and a lot of expertise. Most homeowners are not savvy when it comes to the various components of kitchen remodeling, such as sink installation, pipe repairs, fixture replacements, and more. That is why we recommend having a reliable plumber by your side to make the project go much more smoothly.
Our experts at Mick's Plumbing are no strangers to major projects such as kitchen remodeling or bathroom remodeling. Over the years, we've helped numerous customers tackle these large home improvements, so we know the best strategies, tools, and materials to use to make your new kitchen as perfect as can be. Avoid the stress that comes with kitchen remodels and let Mick's Plumbing take care of it for you.
Many homeowners may not realize just how much work goes into a kitchen remodel project. It's not just changing the sink and countertops. The kitchen is a vital part of every home, and it needs to be treated as such. Don't underestimate the scope and importance of a kitchen remodel. If you want to get the most value out of your Portland kitchen remodeling project, contact an expert plumber today.
Why Hire Us for Your Portland Kitchen Remodel?
We here at Mick's Plumbing have been in the business for many years. Our staff has in-depth knowledge and level of experience in all aspects of plumbing, kitchen remodels included. As we've mentioned previously, this kind of project shouldn't be underestimated, and you will want to seek the help of a professional, trained expert to assist you.
No matter how big or how small of a kitchen, Mick's Plumbing is the ideal choice to help you with the remodel. Our friendly, experienced staff will ensure that you are getting the best deal on materials and labor and that you won't have to deal with any significant issues during the project. Let us take the stress off your hands and put your mind at ease. We know that you'll be incredibly satisfied with our results. Get ready to say hello to a new kitchen!