Your Trusted Plumber in Portland, OR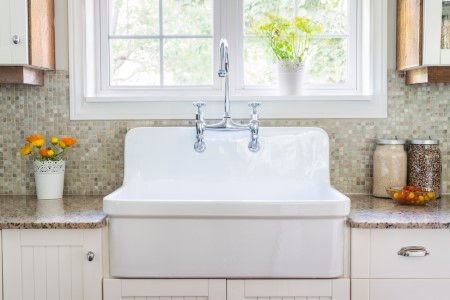 You won't find a plumber in the Portland region that is as dedicated and professional as the folks at Mick's Plumbing. For years, we have been servicing customers in the Portland area for all their plumbing needs, and we have developed a reputation as one of the most reputable businesses in the industry. If you need a committed plumber for your home or commercial property, Mick's Plumbing is the way to go.
We offer the following plumbing services around the greater Portland region:
General plumbing repairs, including leaks, clogs, and more.
Drain cleaning for your kitchen, bathroom, laundry room, or basement
Sewer line repairs
Water treatment
Hot water heater repairs, replacements, and installations
Water softeners
Sink, faucet, and toilet repair and replacements
Kitchen remodeling
Bathroom remodeling
Basement remodeling
Lite commercial plumbing
Portland homeowners have been coming to Mick's Plumbing for years because they know we are the best in the business. Whether you need a quick leak fixed, or a major remodeling job complete, we encourage you to give us a call to see how we can help.
Reasons to Call a Plumber for Your Portland Home
Most homeowners tend to think that they can handle a majority of plumbing issues around their residence by themselves. However, even if you are handy, it's still a good idea to consult with an expert. Mick's Plumbing knows how important it is to find and diagnose plumbing problems immediately before they get too large to handle. Here are some signs to be on the lookout for to know whether it's time to call a plumber.
No hot water - Lack of hot water can mean multiple things, but most of the time, it involves your hot water heater. Hot water heater replacements can be expensive, so you will want a plumber to come look and see if yours can be fixed before it's too late.
Overflowing toilet - A common issue found in homes is an overflowing toilet due to a clog or backed-up pipes. Using a plunger or an auger can help clear minor obstructions. Still, if your toilet continues to overflow, it may be time to call in the plumber.
Gas smell - Even if you are handy, we advise you to call a plumber if you smell gas in the home. There could be a faulty pipe fixture or even a broken valve. Letting this go unattended can be very dangerous.
Unusual smells - Gas isn't the only odor you should watch out for regarding plumbing. Foul smells can come from your drains, sinks, and toilet, which can be the result of bacteria or mold growth.
No matter the issue, Mick's Plumbing is ready to help you with your Portland home plumbing needs. Don't hesitate to give us a call today and see how we can assist.