Hot Water Heaters In Portland, OR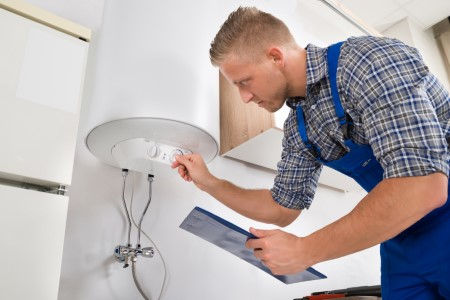 Hot water heaters are one of the most important components of your Portland home. Without a properly functioning heater, the winter season can become almost unbearable. However, as crucial as these major appliances can be, there is the possibility that they can run into problems down the road. When this happens, who will you call?
Mick's Plumbing is a licensed and insured Portland area plumbing repair company committed to a variety of plumbing services, from drain repair to bathroom remodeling assistance, with a particular specialty in hot water heater repairs.
We know exactly how these appliances function, and we've faced our share of water heater issues in the past. The one major mistake we've seen over the years is that many homeowners think they can address the problems on their own without any sort of experience or knowledge. This eventually leads to even more significant issues in the future. Attempting to fix a heater on your own if you don't know what you're doing can not only be costly, but it can even be dangerous. That is why we recommend having an experienced plumber handle it for you.
Why Portland Homeowners Should Hire Us to Service Hot Water Heaters
Hot water heater issues are no joke, and no matter how big or how small they may seem, it's crucial that you have an expert address them right away. We want Portland homeowners to know that they have a reliable, prompt plumbing service just a phone call away to help them with their hot water heater problems. That is why Mick's Plumbing has been committed over the past several years to delivering top-quality plumbing services in the region.
When you call us to set up an appointment, we will work with you to get to the root of the problem. We'll ask the necessary probing questions to determine what the issue with your water heater could be, what may have caused it, and how we can address it. We'll help put your mind at ease by assuring you that we're the best at what we do, and we won't give up until we find a solution.
Keep a close eye on your hot water heater. Do you notice a strange rumbling or gurgling sound? Are there any unusual odors that you've suddenly started smelling? Is the water in your home not heating properly? These are all indicators that you may have a hot water heater problem that needs to be addressed quickly. Call us at Mick's Plumbing right away and let us start looking for a solution.